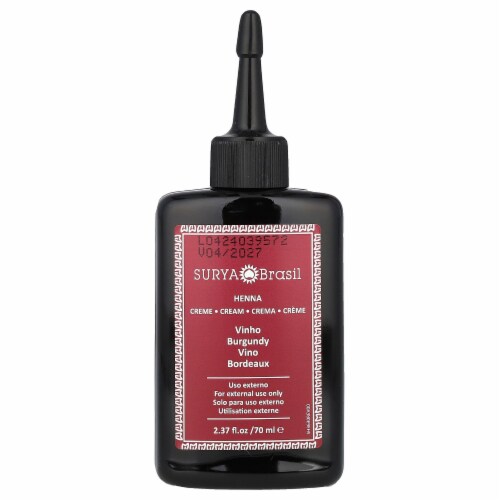 Hover to Zoom
Surya Brasil Henna Cream Hair Coloring Burgundy
2.37 fl oz
UPC: 0789654472037
Product Details
Semi-Permanent, High-Performance Healthy Hair Color and Conditioning Treatment
Surya Brasil Henna Creams offer a safer and more natural way to cover your grey or change your hair color, while simultaneously coloring, conditioning and strengthening your hair. Designed like a beauty hair treatment, Surya Brazil''s luscious Henna Cream texture is both rich and silky with a mild, pleasant scent. Easy to apply on clean hair, it does not contain the popular allergy-causing ingredients, PPD. For long lasting color results use Surya Brasil''s Color Fixation Shampoo and Conditioners.
Hair Color & Conditioning Benefits
• Available in 15 natural shades including Black, Dark Brown, Golden Brown, Light Brown, Chocolate, Burgundy, Mahogany, Red, Reddish Dark Blond, Copper, Ash Blonde, Golden Blonde, Swedish Blonde, Light Blonde, Silver Fox.
• Safe to use before or after chemically treating the hair (ie, straightening, coloring and/or texturizing).
• This product is Natural, Vegan and Cruelty-Free: not tested on animals and does not contain animal ingredients.
• Does not contain ammonia, methyldibromo glutaronitrile (preservatives), mineral oil, parabens, PPD (para-phenylenediamine), peroxide, resorcinol, silicones, sodium chloride (salt), sodium perboarate (oxidant), sodium picramate (dye component), synthetic fragrance or aggressive components.
• Surya Brasil Henna Creams are not compound hennas and do not have lead or other heavy metals added to this formula.
• Contains less than 2.5% of mild non-skin sensitizing color or "dyes".
• Surya Brasil has made a commitment to the creation of safer personal care products that are free of harmful chemicals.
• The ingredients used are safely-extracted and sustainably-harvested with respect to nature and our planet.
Active Ingredients
Acai: has fatty acids
---