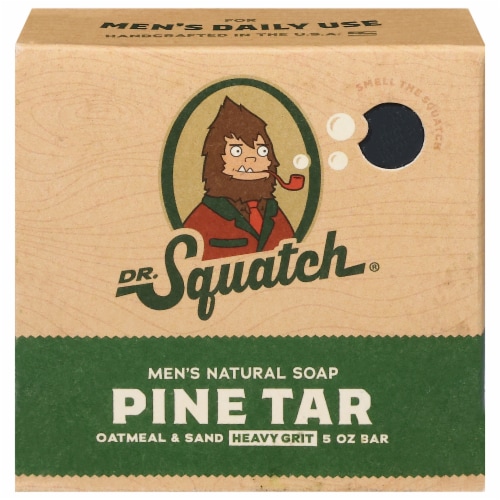 Hover to Zoom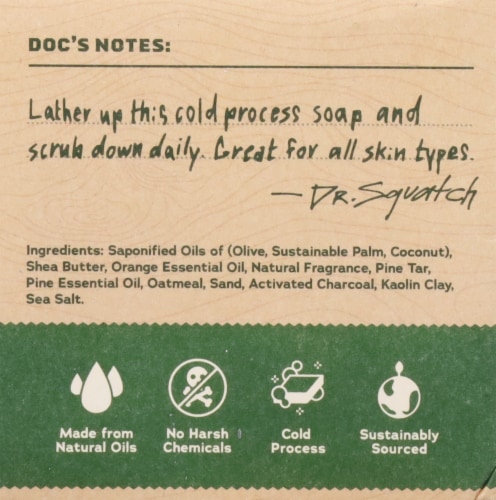 Hover to Zoom

Hover to Zoom

Hover to Zoom
Hover to Zoom
Hover to Zoom
Dr. Squatch® Pine Tar Natural Bar Soap
Product Details
Made with real pine extract, this all-star bar is as tough as a freshly cut bat. A true MVP of the shower, this heavy-hitter knocks out grime with its gritty composition and ultra-manly, woodsy scent. Toss in the exfoliating oatmeal and the super-soothing shea butter, and you've got a bullpen of natural ingredients that will strike out any stink.
Made From Natural Oils
Cold Process
No Harsh Chemicals
Sustainably Sourced
Soap as Tough as You. Rugged, woodsy, and strong, just like a Squatch man should be. Smells Like: Old Growth Forest
Exfoliation: Heavy Grit
Oatmeal (Exfoliant) The saponins found in oats work as a natural exfoliant, removing dirt and oil from the pores.
Sand (Exfoliant) Sand acts as a natural exfoliant to peel off dead skin cells which leaves your skin glowing and smooth to the touch.
Activated Charcoal (Detoxifier) This magic ingredient is usually sourced from coconut husk bringing microparticles such as dirt, dust, chemicals and toxins to the surface of the skin, making them easier to remove.
---