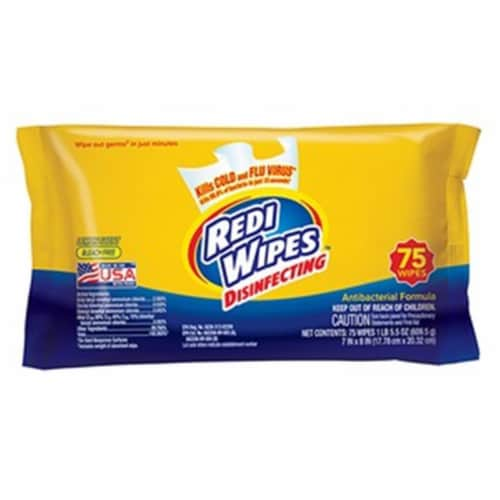 Hover to Zoom
Redi Wipes Lemon Disinfecting Wipes
Product Details
Kills cold and flu virus.Kills 99.9% of bacteria in just 15 seconds!
Redi WipesDisinfecting Wipes are effective against:
Bacteria: Staphylococcus aureus [Staph], Salmonella enterica [Salmonella], Pseudomonas aeruginosa [Pseudomonas], Campylobacter jejuni [Campylobacter], Acinetobacter baumannii, Burkholderia cepacia, Campylobacter jejuni, Corynebacterium ammoniagenes, Enterobacter aerogenes, Enterococcus faecalis [Enterococcus], Enterococcus faecalis—Vancomycin Resistant |VRE], Escherichia coli [E. coli],ESBL Escherichia coli—[Extended spectrum beta-lactamase producing E. coli], Klebsiella pneumoniae [Klebsiella], Legionella pneumophilia, Listeria monocytogenes, Salmonella schottmuelleri [Salmonella], Salmonella typhi [Salmonella], Serratia marcescens [Serratia], Shigella dysenteriae [Shigella], Staphylococcus aureus—Community Associated Methicillin-Resistant [CA-MRSA] [NRS384] [USA300],Staphylococcus aureus—Community Associated Methicillin-Resistant [CA-MRSA] [NRS123] [USA400], Staphylococcus aureus—Methicillin-Resistant [MRSA], Staphylococcus aureus—Multi-Drug Resistant, Staphylococcus aureus—Vancomycin intermediate Resistant—[VISA],Streptococcus pyogenes [Strep] [a cause of scarlet fever], Vibrio cholerae.
Viruses: *Hepatitis B Virus [HBV], *Hepatitis C Virus [HCV], *Herpes Simplex Virus Type 1, *Herpes Simplex Virus Type 2, *HIV-1[AIDS Virus], *Human Coronavirus. *Influenza Type A Virus/Brazil [Influenza Flu Virus]: *Respiratory Syncytial Virus [RSV],Rotavirus [Diarrhea-causing virus], *SARS Associated Coronavirus [SARS] [cause of Severe Acute Respiratory Syndrome], *Vaccinia Virus.
Animal Viruses: Avian Influenza A (H3N2), Avian Influenza A (H5N1), Avian Infectious Bronchitis Virus, Canine Distemper Virus, Newcastle's Disease Virus, Pseudorabies Virus.
Fungi: Aspergillus niger, Trichophyton mentagrophytes [the Athlete's Foot Fungus) [A cause of Ringworm of the foot].
---