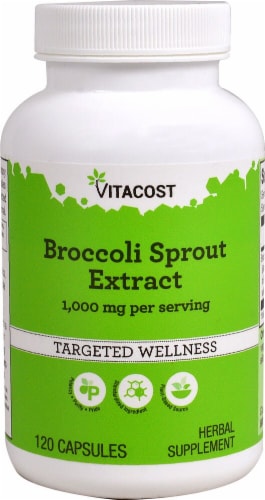 Hover to Zoom
Vitacost Broccoli Sprout Extract Herbal Supplement Capsules 1000mg
Product Details
What is Broccoli Sprout Extract?
Broccoli Sprout Extract is a high-quality broccoli (Brassica oleracea) sprout extract, standardized to 6% glucosinolates and 0.3% sulforaphane, the active constituents found in cruciferous vegetables. Broccoli sprouts are young (three- to five-day-old) broccoli plants, similar in appearance to alfalfa or bean sprouts. Although less nutritious than mature broccoli, which is packed with vitamins and minerals, broccoli sprouts contain unique phytochemicals that have been extensively researched for their effects on human cellular health.
What are the key benefits of VitacostBroccoli Sprout Extract?
Contains sulforaphane and glucosinolates, phytochemicals that have been extensively studied for their effects on various areas of health
Sulforaphane—an antioxidant—is found in high concentration in broccoli sprouts, as well as in other cruciferous vegetables such as broccoli, cauliflower, Brussels sprouts, bok choy, kale and cabbage
Glucosinolates are sulfur-containing compounds also found in high concentration in cruciferous vegetables
VitacostBroccoli Sprout Extract is a targeted wellness solution - just for you.
Supplies 1,000 mg of broccoli sprout extract per 2-capsule serving
Higher milligram-per-serving amount than other brands
Contains 60 servings per bottle
Exceptional quality at an extraordinary value!
Potency • Purity • Pride
All Vitacostsupplements are formulated to deliver the level of support you expect and deserve.All Vitacostsupplements adhere to the FDA's Current Good Manufacturing Practices (CGMPs), ensuring that they are manufactured to high standards.
*These statements have not been evaluated by the Food and Drug Administration. This product is not intended to diagnose, treat, cure, or prevent any disease.
---