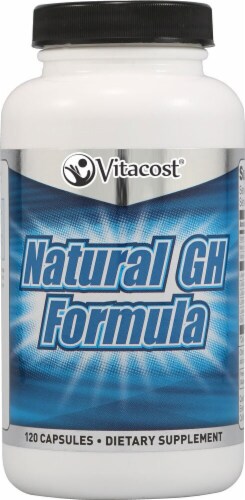 Hover to Zoom
Vitacost Natural GH Formula Capsules
Product Details
What is Vitacost Natural GH Formula?
Vitacost Natural GH Formula is a specific combination of vitamins and amino acids that may promote the body's own production of growth hormone.* Vitacost Natural GH Formula is a natural alternative for anti-aging purposes.
How does Vitacost Natural GH Formula support health?
Growth hormone production declines with age. This has been associated with age-related changes in cognitive and immune function, bone density, body composition, quality of life, sleep and energy levels.
Results may be enhanced when combined with exercise and proper nutrition.
Why choose Vitacost Natural GH Formula?
Provides exceptional quality at extraordinary value.
About Vitacost
Vitacost nutritional products are manufactured to high standards of quality, efficacy and safety. Each Vitacost product meets or exceeds the standards and requirements set forth in the FDA's Code of Federal Regulation (21 CFR, 111) Current Good Manufacturing Practices (CGMP).
* These statements have not been evaluated by the Food and Drug Administration. This product is not intended to diagnose, treat, cure or prevent any disease.
---