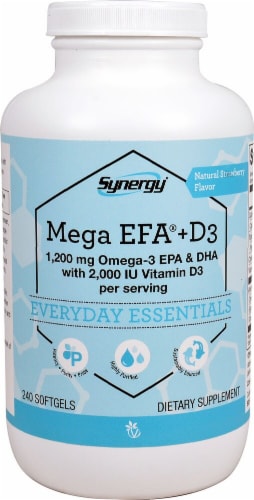 Hover to Zoom
Vitacost Synergy Mega EFA + D3 Everyday Essentials Softgels
Product Details
Mega EFA® + D3 Omega-3 EPA & DHA is a premium-quality fish oil supplement delivering high elemental levels of two of the most-studied omega-3 essential fatty acids: EPA and DHA. Also included is 2,000 IU of vitamin D in its superior form, vitamin D3 (cholecalciferol) per 2-softgel serving.
Omega-3 fatty acids are essential to the body and must be obtained through diet. Fatty fish, such as cod, tuna and salmon, are the best source, but they can also be found in some plant sources and in flaxseed, walnuts and soybeans. Most people do not eat enough of these foods, however, to obtain optimal amounts of omega-3 nutrients. In this case, taking a supplement such as Mega EFA® + D3 may be beneficial.
Vitamin D is a fat-soluble vitamin that plays a role in bone health, immune health and more.* Vitamin D3 (cholecalciferol) is a preferred form of vitamin D and the same type naturally produced by skin when exposed to sunlight.
Unlike other low-cost, low-grade fish oil supplements, which may contain traces of dioxin, mercury, PCBs and other environmental contaminants, Vitacost Mega EFA® + D3 has been molecularly distilled to guarantee the freshest, purest product. Mega EFA also contains a higher milligram-per-serving amount of omega-3 fatty acids than other brands, with 800 mg of EPA and 400 mg of DHA in each two-softgel serving.
*These statements have not been evaluated by the Food and Drug Administration. This product is not intended to diagnose, treat, cure, or prevent any disease
---